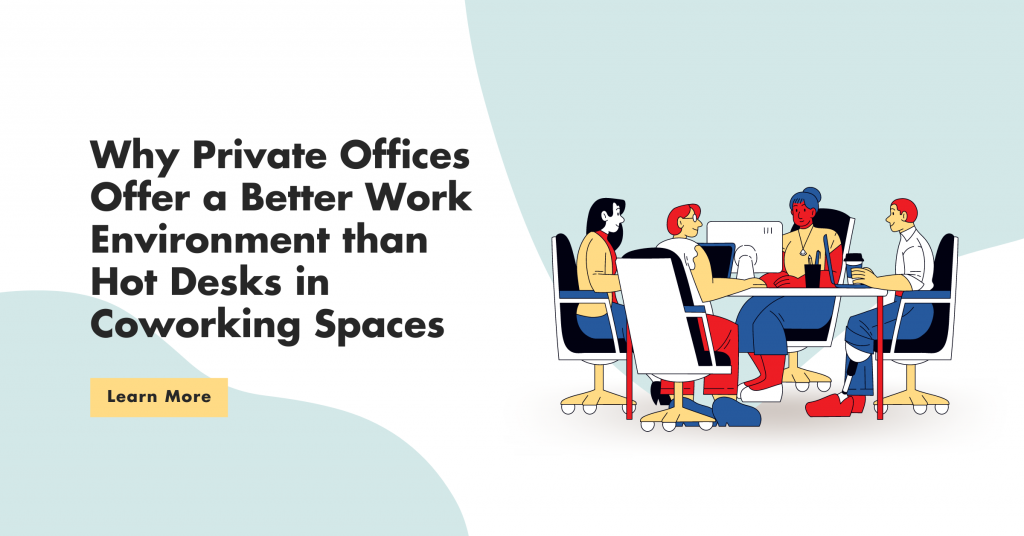 Coworking spaces offer shared, flexible office workspaces that cater to independent workers, remote-working employees, and businesses. These spaces offer a variety of office plans to choose from.

Hot desks are usually long tables shared by multiple coworkers in an open space, while dedicated desks are fixed office tables in a dedicated location. Private offices consist of a private room with furniture layouts that include office tables and ergonomic chairs. Large-scale coworking spaces offer a full range of office plans, from hot desks to dedicated desks, to offices with closed doors like private offices. Additionally, virtual offices are an option that offers mail handling and telephone answering services.
When choosing an office plan, factors like location, facilities, and proximity to other coworkers can impact your productivity level. It is essential to consider the type of office that gives you more control over your environment and offers fewer distractions.
While many remote workers or business owners may opt for the most cost-effective option, such as hot desking, there are numerous advantages to renting a private office space. Let's dive in and explore the benefits of renting a private office workspace.
Enhanced Privacy and Comfort
A private office space, in contrast to a hot desk, is an enclosed room with four walls, windows, and a door. Typically, private offices are furnished with ergonomic furniture, providing superior comfort and support compared to the basic furniture offered for hot deskers. In a 2014 survey of over 1,500 people conducted by Deskmag, an online magazine for coworking space operators and users, 70% of respondents felt more productive in a private office compared to a hot desk. You can cater the location of your private office to your needs–whether you need a quiet corner for optimal focus or prefer a location near convenient facilities for easy access.
Freedom of Creativity
Private offices provide a blank slate that can be creatively decorated and filled with furniture to suit individual preferences. Personalising the room with your company's colours, logos, and buntings enhances its distinct identity. Boost your productivity with a shelf of books or reference materials, and add colour with cushions and motivational posters. With the freedom to customise, private offices offer a unique opportunity to create a space that is both functional and reflective of individual style.
Save Time and Cost
When it comes to hot desk subscriptions, additional fees are often incurred for facilities such as printing and meeting room rentals. As a business owner, avoiding the hassle of making multiple requests for printing or rental of meeting rooms is essential. Opting for a private office plan not only provides the needed privacy and comfort but also comes with added benefits such as printing and meeting room credits. These added benefits can ultimately lead to cost savings and more efficient use of time, allowing businesses to focus on their primary objectives.
Control Over Your Environment
If you have experience with hot desking, you are likely familiar with the common issues of noisy coworkers, a lack of available desks, and disruptions in an open space. Opting for a private office provides an environment that is fully under your control, offering a quiet room with no interruptions.This is essential in the current era of virtual meetings, when background noise can be problematic. Global architecture and design firm, HOK, ran a survey in 2016 and found that workers in private offices reported higher levels of privacy, comfort, and control over their work environment, leading to increased productivity and job satisfaction.
Security and Confidentiality
The most significant benefit of a private office is the peace of mind it provides. With a private office, individuals and teams can establish a personal sanctuary that is conducive to a productive workday without needing to search for a suitable hot desk space. Private offices also offer the freedom to speak openly with colleagues and clients without concerns about confidentiality. For businesses requiring additional storage space, a secure and locked private office is an ideal solution.
Better Teamwork
As your team expands, it becomes increasingly beneficial to consider a private office coworking solution. By committing to a private office solution, your team can work more efficiently, collaborate more effectively and streamline operations to meet the needs of your growing business. Based on a report 'The Coworking Revolution: From Disruption to Innovation' published by Oxford Economics in 2016, workers in private offices had higher levels of job satisfaction and were less likely to leave their jobs compared to those in open-plan offices or hot desks. Opting for a private office workspace also provides the flexibility to scale up as your business continues to grow.
Customised Solutions
Investing in a private office provides the opportunity to customize the workspace to your exact specifications. Whether you want to redesign the layout, order custom furniture or make other adjustments, speak to your coworking space to explore the available options.
Did you know that INFINITY8 provides ready-themed and customised private offices that fit your budget? Choose from themes such as Japandi, Luxury, Vintage, Industrial styling and more to match the office vibe you desire. Simply move into a ready-made office and start work immediately!
Are you looking for a private office or looking to upgrade? Contact INFINITY8 today to learn more about our affordable and customisable private office solutions.
With seven locations in Johor Bahru and one in the nation's capital, Kuala Lumpur, INFINITY8 provides private offices starting from an affordable price of RM450/month. Discover an array of private office options ranging from fully-automated, no-frills solutions to fully-customisable, premium offices designed to accommodate your business's growth.