In recent years, coworking spaces have not only become a popular choice for gig workers, freelancers, small start-ups, and SMEs but also for big corporations.
As an increasing number of workers adopt a mobile lifestyle and remain connected at all times, traditional office spaces are no longer seen as the most effective solution.
Big corporations are seeking to create more dynamic work environments, adapt to the changing workforce and offer more perks like the freedom of working from anywhere. To accommodate the evolving needs of their employees, big corporations are turning to coworking spaces.
Making the Shift
Globally, large enterprises that had moved several of their teams into flexible office spaces are Bank of America, Ernst & Young, Facebook, HSBC, IBM, Jaguar Land Rover, Microsoft, Salesforce, Shell Global, Starbucks, and UBS. At WeWork, the second largest shared office space provider in the U.S., large corporations make up over a quarter of the company's membership and revenue.
According to a recent article in the Malaysian Reserve, some of the big corporations in Malaysia that have rented coworking spaces for their employees are Alliance Bank, Cenergi SEA, DHL, HRnetGroup, Keypath Education, Maybank, Petronas Dagangan, PhillipCapital, Singtel, Teleport, Telum Media, UOB, WPP Malaysia, and more.
WORQ Malaysia recently opened its 5th outlet in KL Sentral, with an unnamed multinational corporation as the anchor tenant of the 34,000 square feet location. The workspace for the multinational was developed by its custom-built solution division.
In addition, WORQ also counts WPP Group, the world's largest advertising company, as one of its clients, for which it had built a solution for 500 of their employees in its fourth outlet.
Let's take a look at the reasons why big corporations and enterprises are embracing coworking spaces.
1. Value for Money
With the current economic challenges and rising costs of goods and services, big corporations are looking at how to operate cost-effectively and reduce unnecessary costs.
Coworking spaces that come equipped with furniture, equipment, fully paid utilities, snacks, beverages, and attractive office layouts can go a long way in helping corporations lower their costs.
By paying a monthly rental fee to the coworking space, big corporations could maximise the benefits of modern, flexible office spaces while reducing the investment in renting a traditional office space which requires renovation, furnishings, equipment, and other high costs.
2. Flexibility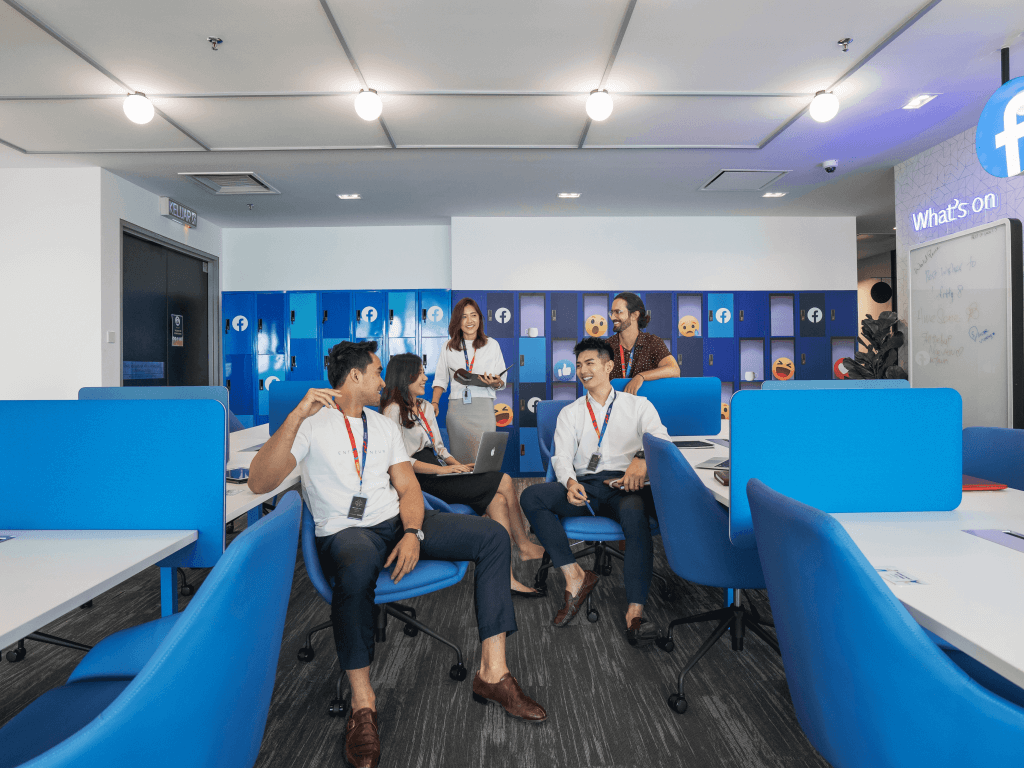 Coworking spaces offer greater flexibility in terms of lease agreements, which can be especially valuable for businesses that need to scale up or down quickly.
Furthermore, coworking spaces enable big corporations to offer their employees the choice of either working in a formal office or in a coworking environment, depending on which location is more convenient.
Big corporations that have mobile teams such as sales or service personnel may work out of coworking spaces so that they can be nearer to their appointments or service territories in that particular area. This saves on both commuting time and travel costs which have an impact on the organisation's bottom line.
Teleport, AirAsia's rebranded cargo and logistics platform, have been utilising coworking space Common Ground in Damansara Heights since late 2018.
For them, renting the space makes it easier to attract talent to join them as their headquarters in RedQ is a bit of a drive since it's near the airport, and may turn off candidates from applying.
3. Talent Acquisition and Retention
Finding good talent is a perpetual need for any organisation. Large corporations that offer employees the flexibility of working from coworking spaces located in different parts of the world may have an advantage over others in maintaining critical talent.
Coworking spaces offer greater flexibility to employees, allowing them to choose when, where, and how they work. This can be especially valuable for younger generations who prioritise work-life balance and autonomy.
A 2017 study conducted by Deloitte Global which surveyed more than 8,000 millennials from 30 countries found that flexibility and work-life balance were top priorities for millennials in the workplace.
Beyond the need for work-life balance, the expectations of the current workforce are trending towards remote work and flexible work arrangements, particularly after the COVID-19 pandemic. Coworking spaces, especially those with multiple branches, are ideal offices to offer increased agility and flexibility for employees seeking work-life balance.
4. Improved Employee Satisfaction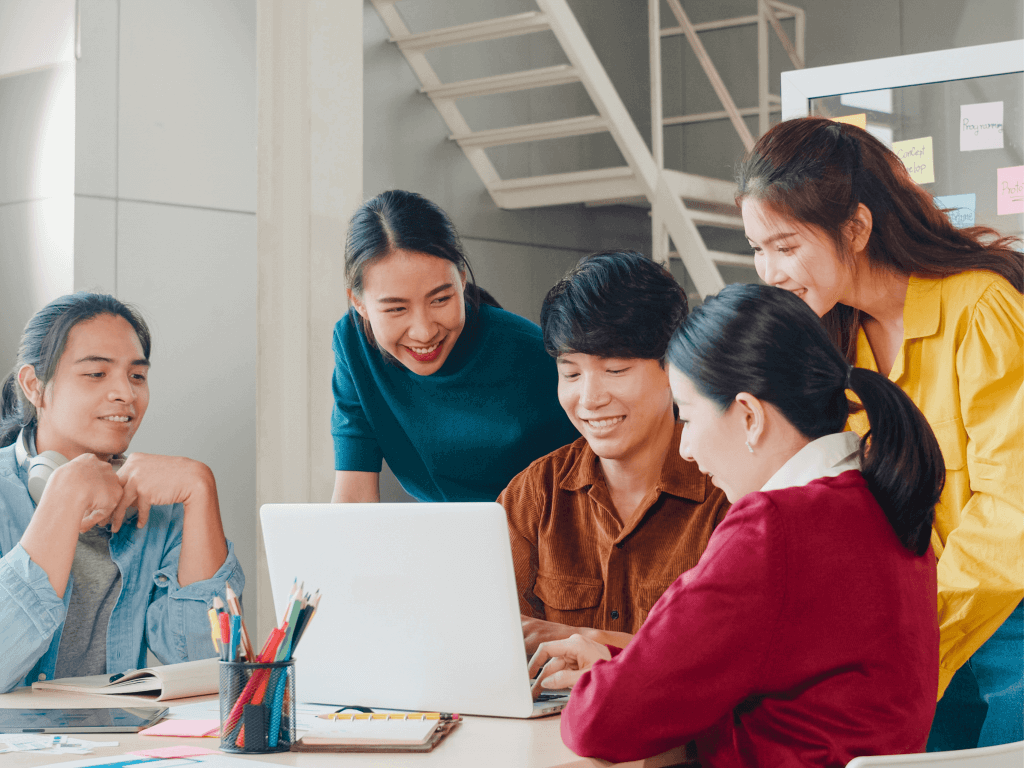 The open spaces and flexible layouts in shared office spaces offer a more dynamic and stimulating work environment that encourages social interaction in comparison to traditional office layouts.
As such, coworking spaces are conducive places to form social connections and build a sense of community where employees could form deeper connections with their employers, coworkers, and people within their team.
Based on a 2023 survey by Harvard Business Review on employee wellbeing in coworking spaces, the employees were found to have a stronger sense of community, reduced loneliness, increased motivation, and improved productivity.
5. Opportunities to Innovate and Collaborate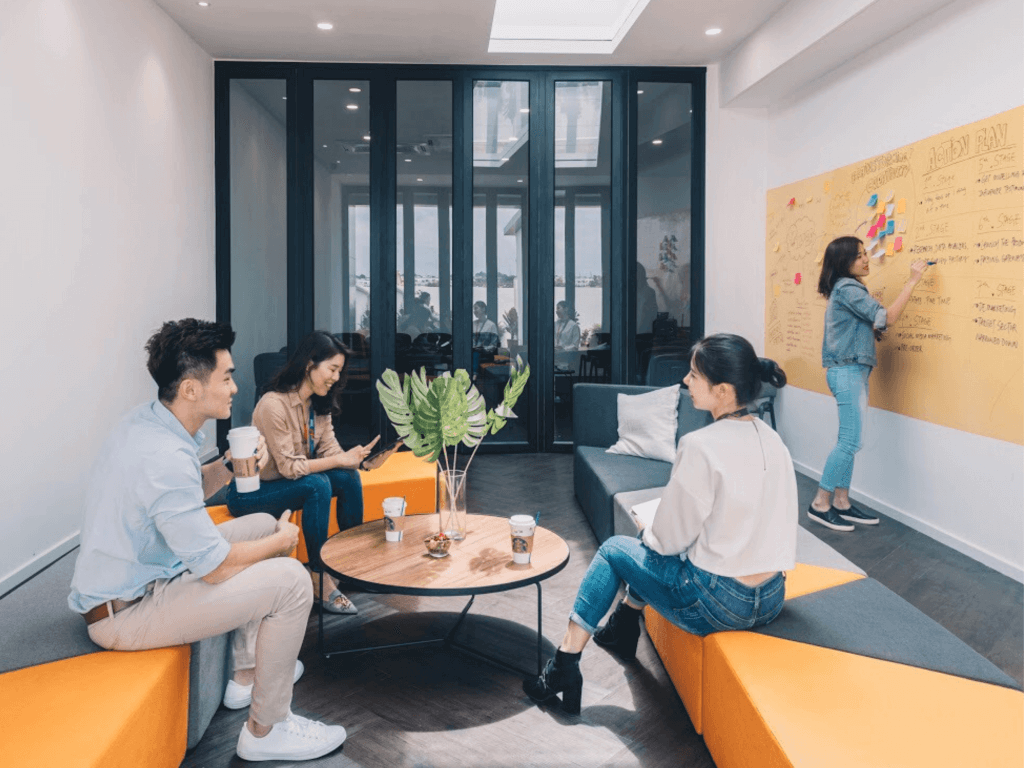 Coworking spaces attract a large number of start-ups, industry innovators, and creatives. When such a large number of like-minded individuals work in the same space, the environment is ripe for collaboration and networking opportunities.
Some large tech companies choose coworking spaces to gain access to new innovators, who could be potential talents for their businesses.
In addition, employees may feel more motivated in an atmosphere where everyone is working to produce great ideas and share them.
6. Custom-built Office Spaces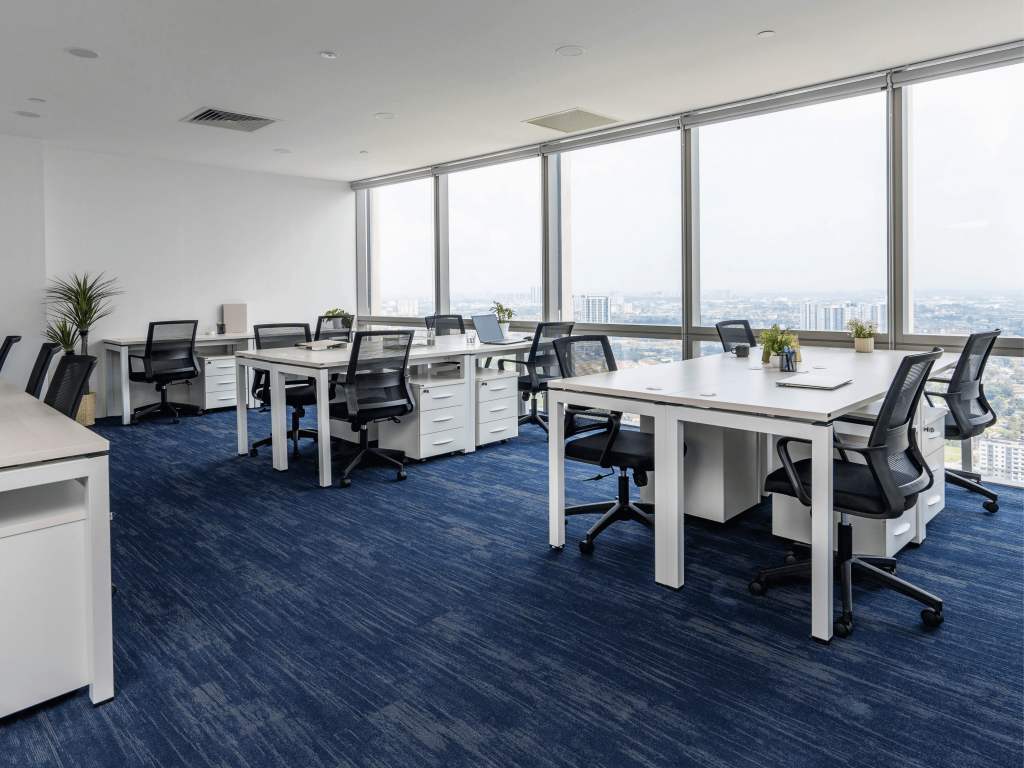 One of the most attractive factors for large enterprises to choose a coworking space is the ability to customise and fit the office space to suit the company's unique culture and branding needs.
INFINITY8's team is ready to work with enterprises to provide customisation and thematic buildups that meet the enterprise's particular requirements for the space. At the end of the day, this translates to a greater degree of flexibility and cost savings compared to custom-fitting and renovating traditional office spaces.
7. Government and Tax Incentives
The Malaysian government, through the Malaysian Investment Development Authority (MIDA), has actively implemented various tax incentives to entice foreign direct investments.
These incentives, coupled with Malaysia's flourishing digital economy, well-established infrastructure, low labor costs, and relatively affordable cost of living, have proven to be compelling factors that attract numerous multinational companies to set up operations in the country.
Coworking spaces which are provided the recognition and certification as Malaysia Digital Hub by the Malaysian Digital Economy Corporation (MDEC) act as thriving innovation and collaborative hubs for the tech community to grow and expand their businesses by providing high-speed connectivity and fostering strong collaboration with business partners.
Given the favorable business climate and government incentives in Malaysia, coworking spaces emerge as an attractive option for large corporations. These spaces not only provide an avenue for establishing offices but also enable organisations to embrace a more flexible work environment for their employees.
Flexible Workspaces of the Future
Ultimately, coworking spaces are wonderful options for large corporations to pivot and adapt to a highly dynamic economy and marketplace demands. Without the complexities of long-term leases, large corporations can leverage flexible workspaces to acquire and retain the right talent, increase employee satisfaction and encourage collaboration while being cost-effective.
If you're considering coworking spaces for your corporation, contact the team at INFINITY8 for a tour and find out more about how we can help you meet your business goals!