Malaysia and Singapore have one of the world's busiest border crossings, and both countries are intricately linked on many levels – be it culturally, historically, or socio-economically.
Both countries have enjoyed close bilateral relations, resulting in 10-20% of the island's workforce being Malaysian.
As of this year, there are close to 1 million Malaysians currently working in Singapore and the pandemic has stranded a majority of these workers on the island due to closed borders.
With remote working and virtual communication dominating our lives, there is an increasing number of Singaporean companies relocating their employees back to Malaysia.
Over the past year, we've seen a 500% growth in interest for our HR services. We conducted a survey in June to better understand the challenges of Malaysian employees and Singapore employers: –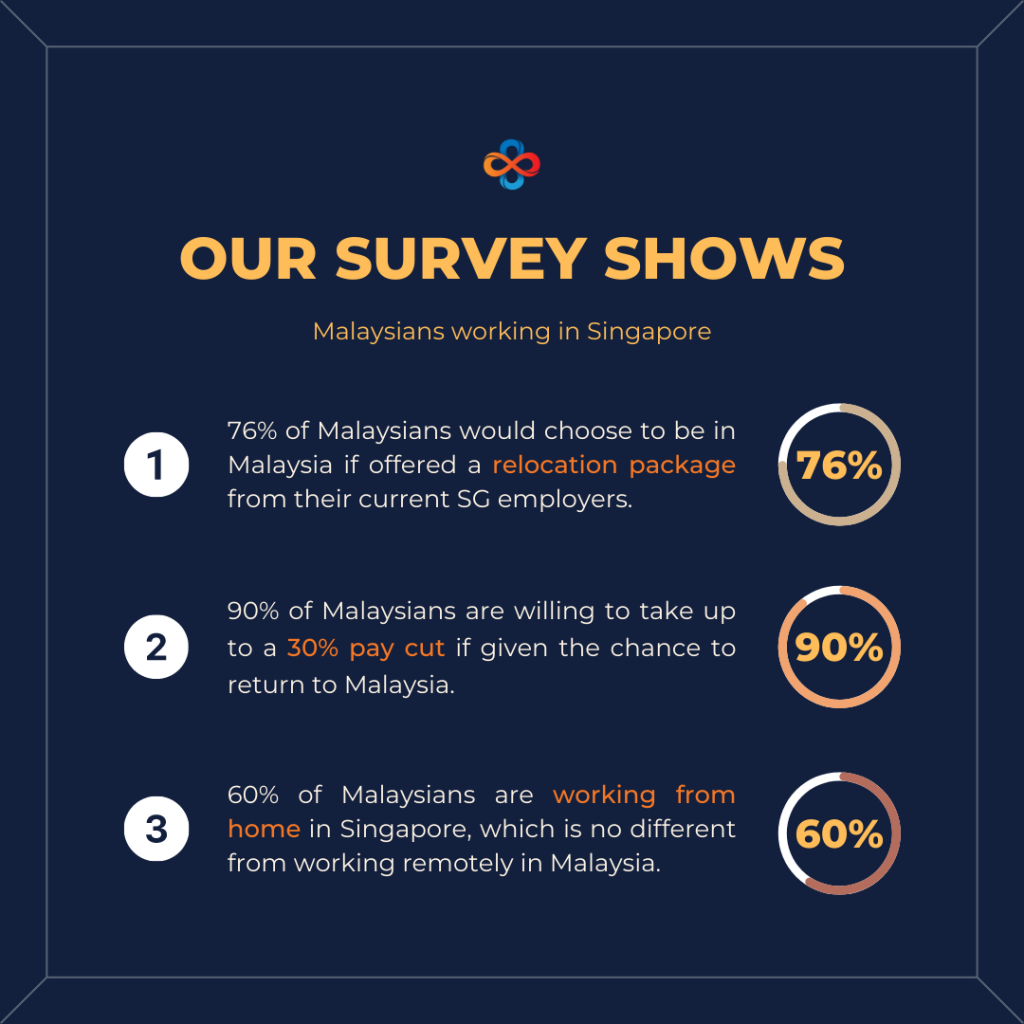 ---
So how much can you save by relocating Malaysian employees & hiring Malaysian talent?
You can save up to 50% in costs

[RM1000 = SGD $322.41] (currency exchange rate on 18 June 2021 at 9:52am)

According to the Salaries and Wages Survey Report 2020 from the Department of Statistics Malaysia, the average salary of 25-49 years olds is RM2,229 to RM3,776 per month (approx. SGD $718.66 to $1,217.43).

Singaporean businesses are able to hire new talent in Malaysia and reevaluate current employee payroll.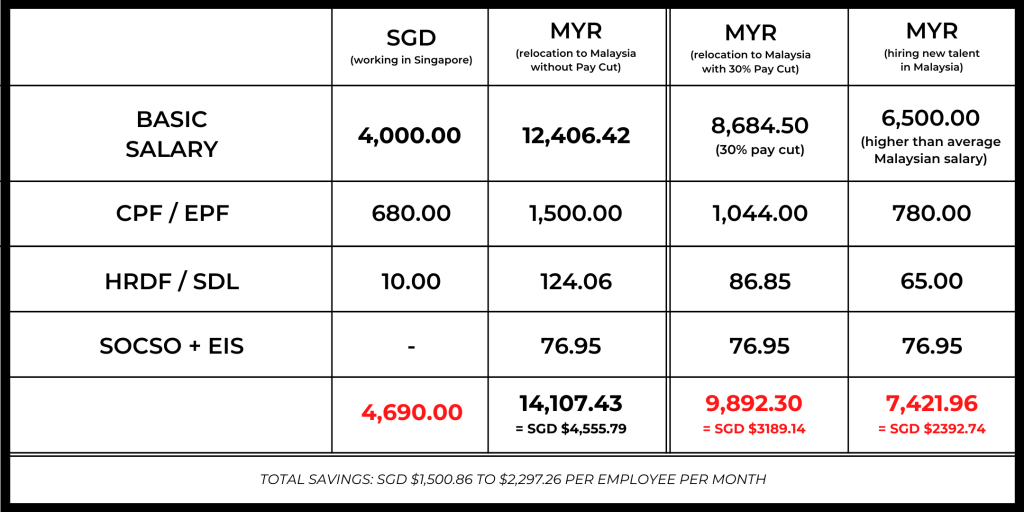 ---
Why should you outsource your HR placements to INFINITY8?
(1) Forgo the hassle of company incorporation in Malaysia



Save up to FIVE (5) figures in cost from: –


Company Incorporation Fee
Local Director Fee
Accounting Fee
Audit and Tax Fee
Company Secretarial Fee

(2)

Simple plug and play concept

Imagine swiftly setting up a Malaysian team without any hassle. INFINITY8 provides HR Hosting Services, alongside extensive knowledge of Malaysia Employment Laws. We also handle:

(3)

Cut down cost on both salary and office rental in Singapore




Employers are expected to save up to 50% of the cost of hiring, as well as 80% of the office rent in Singapore.
Start building your team in Malaysia and explore talents.
(4) Improve employee's satisfact

ion and increase retention of talent



Close to 80% of Malaysian would like to be relocated back to Malaysia, citing reasons such as quality of life, living cost and togetherness with family. In other words, they are willing to take a pay cut in exchange of some other important aspects of life.
---
With the new variant, South East Asia is struggling to contain another devastating wave of Covid-19. Singapore's Foreign Minister, Vivian Balakrishnan, predicts that Covid-19 is endemic, which means it's not ever going to go away completely.

As a business owner, it might be a good time to explore alternative strategies to find a middle ground that provides security for employers and stability for employees.
If you'd like to find out more about our services, CLICK HERE to chat with our friendly representatives and discover different options to find the right fit for your business.

HOTLINE: +6018-220 4138