As you may know, INFINITY8 has teamed up with Facebook Malaysia to launch the Digital Marketing Associate Certification Program! Since the program launch, we've provided training to over 2,953 individuals and businesses!
Now, we're making the certification process even easier for you. Your certification will be fully sponsored by Facebook Malaysia, and will cover professional training, as well as the Digital Marketing Associate Certification exam for SMEs, working professionals, job seekers and students.
---
What's New about the Program?
Improved training content
FB has enhanced the content of their workshops, and created a new 3-hour workshop that covers the entire Blueprint Digital Marketing Associate curriculum. Learners can now join just one workshop, instead of the six workshop topics that were previously offered.

Streamlined enrolment and exam voucher process
FB has created a new dedicated landing page for the Digital Marketing Associate Certification Program which guides learners through every step of the process. Learners will just need to follow just 5 steps to become a Facebook Certified Professional.
---
What to expect from the program?
Enroll for a free live workshop and get trained by a local Facebook Certified Trainer.

Stand a chance to receive a complimentary exam voucher and Facebook Swag. We are offering the swag to the top 200 learners who pass the exam by the end of August 2021.

Access to Facebook Certification Career Network – a job search platform exclusive for certified learners to connect with top companies in the region.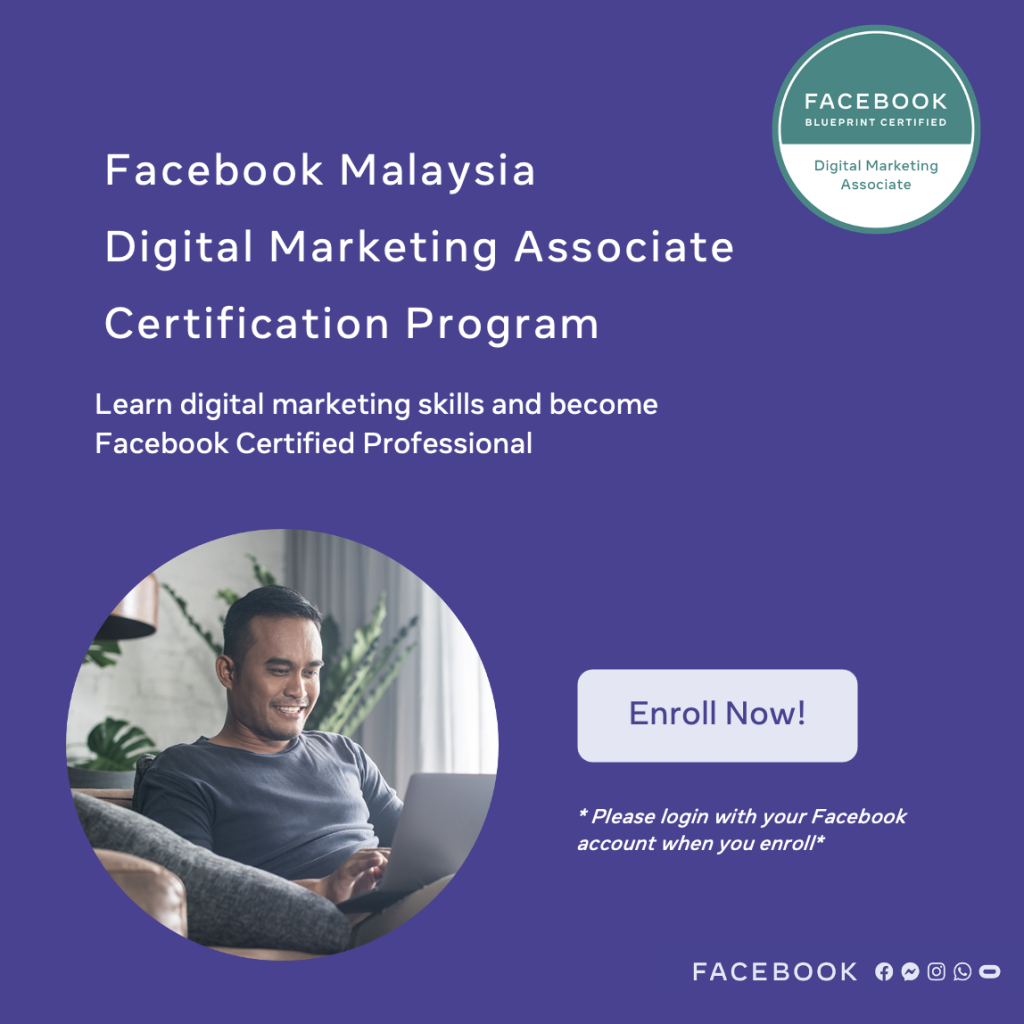 ---
How to sign up?
Step 1: Enroll for a free live workshop and get trained by a local Facebook Certified Trainer
Step 2: Login to the page under your registered Facebook account
Step 3: Choose your learning preference (Self Learning / Virtual Live Workshop)
Self Learning:

By choosing to self learn, you will prepare for the Digital Marketing Associate Certification exam by taking online courses independently.

– Explore self paced and step-by-step tutorials that can help you build your digital marketing knowledge.

– You will need about 8 hours of flexible study time to cover the entire curriculum.

Click

HERE

to view online courses and start learning at your own pace.
Virtual Training Workshop:

You will be guided through the exam prep by a local Facebook Certified Lead Trainer.

Dates: 27th July – 30th July
Time Slots: 9am – 12pm OR 2pm – 5pm

Click

HERE

to register for a live session.
Step 4: Take the Practice Test

Use our official practice test to prepare for test day. Assess your knowledge of Digital Marketing Associate Certification exam content and identify key focus areas.
Step 5: Claim your Complimentary Exam Voucher

To claim your complimentary exam voucher, you'll need to:
Pass the Digital Marketing Associate practice test (required to be eligible to receive 1 complimentary exam voucher)
Complete the Google Form given
Please note:
Voucher redemptions are based on a first-come, first serve basis.
Voucher is limited to One (1) redemption per person.
The exam voucher is not transferable and subject to further terms and conditions.
The voucher is only valid till October 2021.
For more information and to view the applicable terms and conditions, please refer to the FAQ section at the bottom of this page
Step 6: You will receive your voucher within Two (2) weeks

Please note that it will be sent to your registered email. Please be sure to check your Junk/Spam folder to ensure delivery of all correspondence from us.
Step 7: Schedule your Online Exam
The Associate level exam covers foundational advertising concepts on Facebook, Instagram and Messenger.
Click on the link above to register with your preferred language and time slot.
Enter your voucher code when prompted.
Please note that you may schedule the exam timeline once you have received your voucher in order to secure your preferred time slot.
Step 8: Earn your badge and Facebook Swag
You will have access to your results after completing the exam.
Once you have successfully passed, you will receive your unique digital certification badge from

Credly

that can be easily shared on social media, your resume, your email signature and elsewhere.
Your digital badge is proof that you're a Facebook Blueprint Certified Professional and sets you apart from others in the digital marketing industry. The badge includes information about your certification and can be verified online.
If you are among the first 200 people that passed in August 2021, you stand the chance to receive complimentary official Facebook Swag.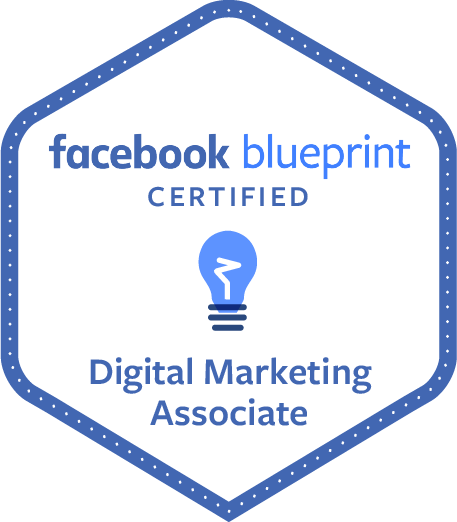 ---
FAQ:
You will be required to login to your registered Facebook account to access all the learning materials.
The free voucher is only redeemable once. If you need to retake the exam, you will have to pay for the new registration.
The free voucher is non-transferable.
This program is sponsored by Facebook Malaysia and includes a virtual live workshop, a practice test, and the first Digital Marketing Associate Certification exam.
This certification program from Facebook Malaysia is proudly supported by INFINITY8 & Gin+ Tonic.