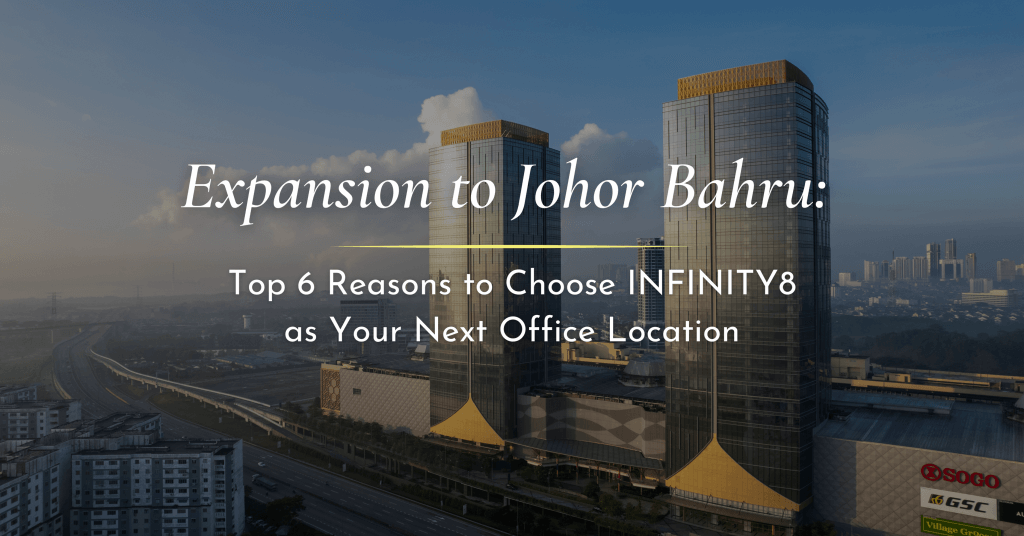 Malaysia has been attracting foreign investors and businesses for several decades, positioning itself as a regional hub for trade and commerce. With its strategic location in Southeast Asia, stable political environment, well-developed infrastructure, and highly skilled workforce, the country has emerged as an attractive destination for companies seeking to expand their presence in the region.
Johor Bahru, Malaysia's fourth-largest city, has been playing a key role in the country's economic growth and development, offering a wealth of business opportunities and advantages for companies looking to establish a presence in the region.
With its proximity to Singapore, lower rental rates and labour costs, and excellent infrastructure, Johor Bahru has become an ideal location for Singaporean companies seeking to expand their operations in Malaysia. Statistics show that there is a steady increase in Singaporean direct equity investment in Malaysia since 2011, with the amount totalling SGD$54 billion (MYR17.6 billion) in 2020.
With the relative ease of setting up a private limited company, subsidiary, or branch office in Malaysia, companies can start small and gradually expand their operations.
At INFINITY8, we offer a unique coworking space that is designed to help Singaporean companies expand their operations in Johor Bahru. In this article, we'll explore the top five reasons why INFINITY8 should be your next office location in Malaysia.
6 Reasons for Singapore Companies to Set Up an Office at INFINITY8 in Johor Bahru (JB)
Proximity and Connectivity to Singapore
One of the key advantages of choosing to establish a presence in Johor Bahru is its exceptional proximity and connectivity to Singapore. Situated just across the causeway, JB offers a strategic location that allows seamless business collaboration and expansion for Singaporean companies.
The close geographical proximity means that professionals can easily commute between the two cities, fostering effective cross-border partnerships and networking opportunities.
Whether it's for client meetings, team collaborations, or attending business events, the convenient travel options, including road, rail, and ferry connections, make JB an ideal choice for Singaporean entrepreneurs and businesses seeking to establish a presence in Malaysia while maintaining close ties with Singapore.
Cost-competitive Business Environment
Compared to the higher operational expenses in Singapore, JB provides an attractive business environment with lower costs. From affordable office spaces to favorable real estate prices, Singaporean companies can significantly reduce their overhead expenses and increase profitability by establishing a presence in JB.
In addition, the lower labour costs in Malaysia make it advantageous for businesses looking to expand their teams or hire skilled professionals. Furthermore, with the increasing number of Singaporean citizens relocating to JB to lower their living expenses, having an office in JB allows Singaporean companies to remain competitive as an employer.
Business Incentives and Tax Breaks by the Malaysian Government
The Malaysian government has implemented various incentives to attract foreign investment and encourage businesses to establish operations in the country. Some of the incentives available for foreign companies, including those from Singapore, range from tax allowances and capital allowances to sector-specific incentives.
To check if your Singapore company meets the specific eligibility criteria, conditions, and application processes, consult with the relevant Malaysian government agencies such as the Malaysian Investment Development Authority (MIDA) or the Ministry of International Trade and Industry (MITI) for the latest and up-to-date information.
Low Startup Cost Compared to Traditional Offices
Setting up a new office can require a significant financial commitment, including costs for office rental, furnishings, utilities, and maintenance. It can take weeks or even months to complete renovations, purchase furniture, and install the necessary equipment.
However, renting a fully-furnished and ready-to-use coworking space like INFINITY8 can help you save on initial setup costs. In addition, your company can save on the costs of hiring an office manager, maintenance staff, and cleaning services for office upkeep, enabling you to focus on growing your business.
Networking Opportunities with Other Thriving Businesses
Joining INFINITY8's coworking community opens up a range of networking opportunities with like-minded individuals and thriving businesses. As a member, your team can connect with independent workers, startups, and established businesses from various industries, fostering a collaborative and dynamic environment.
Our regular networking events and social gatherings provide the perfect platform for building relationships and expanding your professional network.
By participating in these events, you can gain exposure to a diverse range of professionals, create new opportunities for collaboration, and potentially drive business growth. 
Customised Office at the Leading Coworking Space in JB
At INFINITY8, we understand that every business has unique requirements, which is why we offer a wide range of office rental solutions to cater to your needs and budget. Whether you're seeking a low-maintenance office or a space that impresses clients, we've got you covered.
Our kongsi work Series provides fully-automated workspaces spanning 10,000 square feet, ideal for those looking for a hassle-free option.
Alternatively, our Reserve Series offers premium furnishings and inspiring office layouts, designed to leave a lasting impression on clients and associates.
With flexible and cost-effective solutions tailored to your specific business needs, INFINITY8 allows you to focus on achieving your objectives with confidence and ease.
As one of Johor Bahru's largest coworking space providers, we boast eight strategically located offices throughout the city. Our prime locations in the city center and southern economic zone, Iskandar Malaysia offer excellent accessibility, connectivity, and growth opportunities for your business.
In summary, with its proximity and connectivity to Singapore, cost-competitive business environment, business incentives by the Malaysian government, a wide range of affordable office rental solutions, networking opportunities, and a community of like-minded professionals, Johor Bahru is the ideal location for your business growth.
Moreover, by reducing costs and streamlining operations in a coworking space like INFINITY8, Singapore businesses could have a conducive working environment and a hassle-free way to impress their clients and associates. Don't miss out on the opportunity to elevate your business to the next level – join the INFINITY8 community today!
Introducing INFINITY8 Reserve Mid Valley Southkey
INFINITY8 Reserve Mid Valley Southkey sets a new standard of luxury coworking in Johor with its top-notch amenities and prime location with easy accessibility to Singapore. Its premium features, luxurious setting, and professional workspace provide the perfect working environment that inspires productivity, nurtures creativity, and encourages collaboration.
Book a Tour Today
Whether you need a flexible hot desk or a private suite, INFINITY8 Reserve Mid Valley Southkey has a range of offices to suit your needs. Take advantage of our competitively-priced rates and enjoy a premium coworking space with high-quality facilities and beautiful interiors.
Hot desks start at RM300 per month while private suites from two to 15 pax are starting at RM1,400 per month. Our Early Bird Offers and pre-launch special have ended on 31 May 2023. We are now taking bookings from the public for a full tour of INFINITY8 Reserve Mid Valley Southkey.
Register your interest now or contact us at +6018-2204138 or email [email protected] and speak to our friendly sales personnel for a personalised tour today!