We hear you.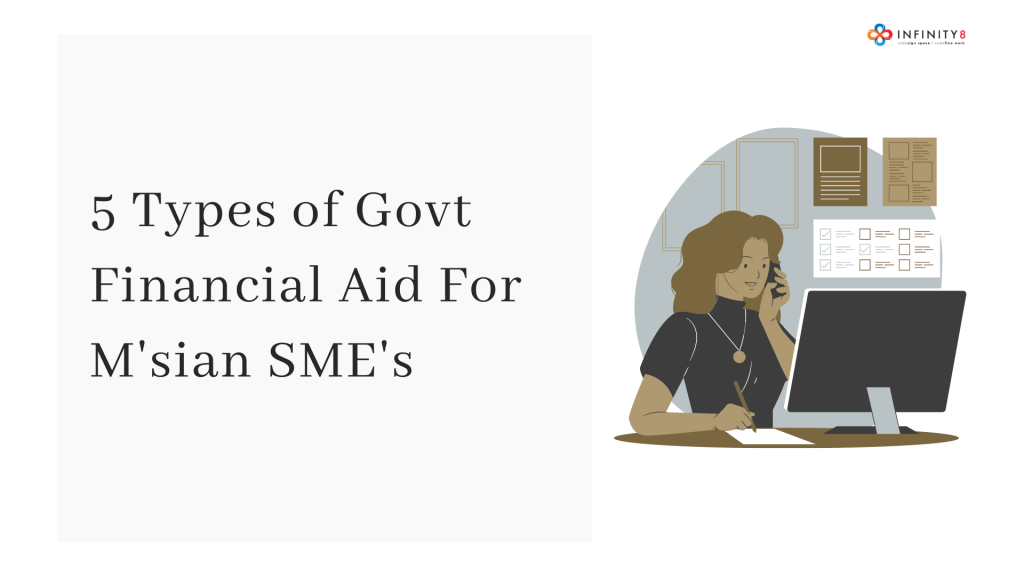 ---
Wage Subsidy Program (WSP) is financial assistance paid to employers of every enterprise, with no salary limits for eligibility.
Employers in return, are required to record this subsidy information in their employees' pay slip.
The applicant can apply on the website and click "Semakan Status Permohonan".
Goverment will support a max. of 500 employees for each enterprise with total of RM600/employee up to 4 months
Open to all sectors in the second phase of National Recovery Plan (NRP) for the first two months
In the next 2 months, specifically applied to sectors categorised in the negative list during the third phase of the NRP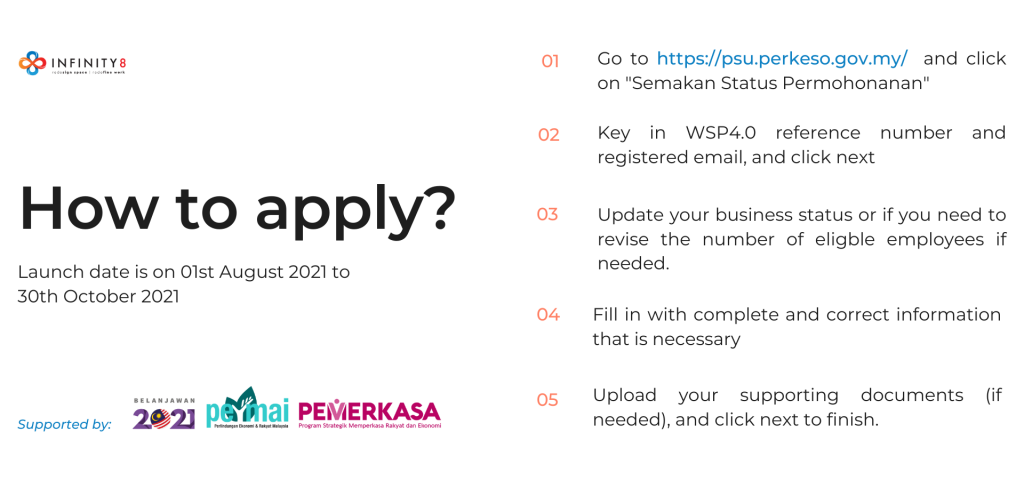 ---
HR DEVELOPMENT FUND LEVY EXEMPTION
Businesses that are unable to operate during the lockdown are exempt from paying the levy to the Human Resources Development Corp (HRD Corp) for two (2) months. The HRD Corp is a mandatory levy payment imposed on employers from all industries. The funds collected go towards providing training and skills upgrading of the Malaysian workforce.
It will launch on 1st June 2021 to 31st December 2021.
Who can apply:
All registered employers who can't operate during MCO
Levy Exemption:
2 months, from July – August 2021, on the salary July and August 2021
---
Levy Exemption:
6 months, from July – December 2021, on the salary July – December 2021
---
Who can apply:
Employers registered with HRD Corp
Vaccine Accelaration Programme:
Able to utilize their HRD Levy to purchase vaccine for employees

Initiative of the Public-Private Partnership Industry Immunisation Programme (

PIKAS

)
---
An economic recovery initiative under the Ministry of Human Resources, administered by Social Security Organization's (Socso) Employment Services to promote job creation among employers while increasing employment prospects.
Application timeline: Jul 15 2021 – Dec 31 2021

Hiring timeline: 15 June 2021 – Dec 31 2021
40-60% salary incentives paid to employers that hire new staffs with 3 or 6 months contract
Claim up to RM7,000 worth of training per employee
How to apply:
Deadline: 31st December 2021
---
Target Relief and Recovery Facility (TRRF) objective is to provide support recovery and relief to SMEs in the services sector affected by renintorduction of containment measures since 2020.
What is it:
An initiave by Central Bank of Malaysia and Credit Guarantee Corporation Malaysia Berhad
Who is participating:
Financial institutions such as commercial banks; HSBC, CIMB, RHB etc
Who is eligible:
All SMEs except tourism and related subsectors
---
Purpose of financing: Working capital
Financing Tenure: Up to 7 years
Financing amount:
For Micro Enterprises financeing up to RM75,000 per microenterprise
For SMEs: Up to RM500,000 per SME
How to Apply:
Choose any commercial bank that offers TRRF and submit an enquiry at their website to apply
Supported by: Bank Negara Malaysia | CGC | SJPP
---
An initiative to help digital adoption for Small and Medium Enterprises (SMEs) as one of the Government support for businesses during COVID-19. An extension of PENJANA program under MDEC with 7 key digitalization areas and terms for eligibility.
Grants of up to RM5,000 (or subsidy of 50% of the total cost) to subscribe or purchase digital platforms.
Initiatives to help digital adoption for Small and Medium Enterprises (SME) as one of the Government support for businesses during COVID-19
The government will provide an additional RM100 million allocation throughout PEMULIH, enabling SMEs to purchase systems or digital platform subscriptions
An extension of PENJANA program under MDEC
---
WHO CAN APPLY?
Limited to 100,000 SMEs to digitalize their business operations.
Available to SME and Cooperative ("Koperasi") registered under the relevant laws of Malaysia;
The SME is at least 60% owned by Malaysian;
The SME/ Coop has been in operation for at least (6) months;
The SME/Coop has minimum average annual sales turnover of RM50,000.
---
CHOOSE THE DIGITAL SERVICE YOU NEED
From 7 Key Digitalisation Areas that should be adopted by SMEs
Digital Marketing/Sales
Human Resource Payroll System (HR) / Customer Relationship Management (CRM)
Procurement
Enterprise Resource Planning (ERP) / Accounting & Taxation
Remote Working
E-commerce
E-Electronic Point of Sale System (e-POS)
---
HOW TO APPLY?
SME/Coop (Applicants) to contact and appoint TSP (Technology Service Provider) for digitalization service (max 3 from list)
(Check out the

list of TSP

)


Applicant to complete and submit application form along with required documents to TSP


TSP to compile applications
Fill up master list sheet
Send list of applications with complete documents to Bank (by batch)
Applicant to make 50% payment of total invoice amount


Applicant disbursement to submit proof of payment to the Bank branch where the application is processed


After proof of payment is provided, subject to the total invoice amount, the Bank will make a direct 50% payment of the total invoice amount or up to RM 5,000.00 to the Service Provider in one lump sum payment or in stages based on the Bank's discretion
---
Need help with grant application? If you have identified a program and require assistance in preparing your applications, take advantage of INFINITY8's services. Our team will work with you to make sure you're all set with the necessary documentation needed for a successful application.