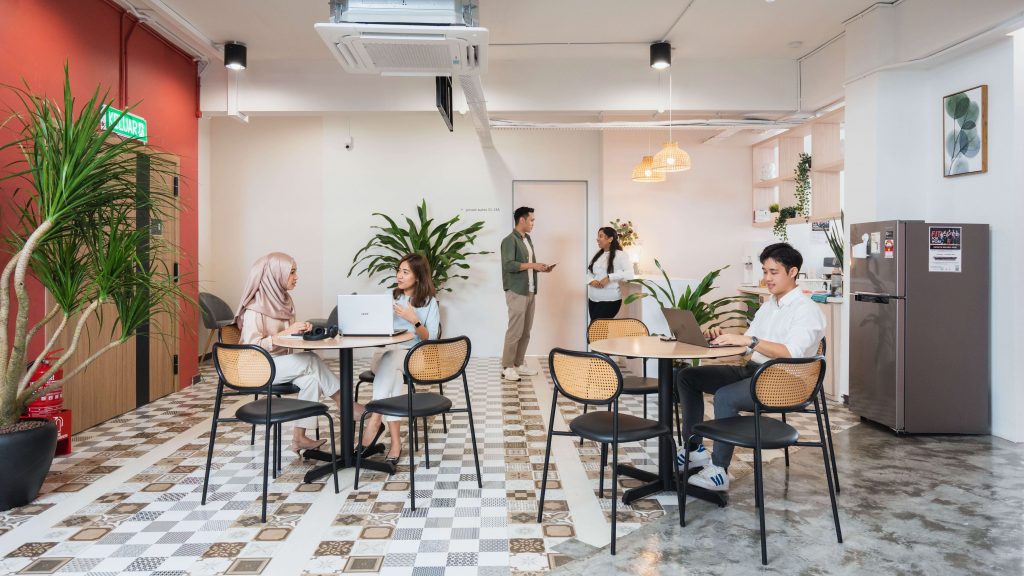 Working remotely can sometimes pose challenges. Undoubtedly, working from home is the best choice ('cause it's free), but there's also the challenge of staying focused (and staying away from distractions!). The home environment is definitely not ideal for productivity when you have noisy housemates, renovation noise, or can't be disciplined enough to stay away from leisurely comforts (long naps on your sofa, anyone?)
You may have tried looking for a work-friendly café near you or working at popular coffee spots like Starbucks, Coffee Bean, San Francisco Coffee, Zus Coffee and so on. But working at cafés has its distractions, too. The difficulties of finding a table near a plug point, uncomfortable seating, unsuitable music, and loud café customers present a whole new league of problems!
And remember the time you attended an unplanned video call and the noise around you is so loud that the other side couldn't hear you?
These are just some of the reasons why people choose to work at coworking spaces near them or rent shared offices. For one, coworking spaces provide a good working environment and fast, stable internet which are so important when you have an all-important video call to attend or have large working files to download.
Read on to know the five most important reasons people choose to work at coworking spaces than in cafés:
Your Belongings are Safe
Can you imagine working out of a café, when your stomach rumbles and an emergency toilet situation is required? The next thing you know, you're dashing to the toilet with your laptop and all your belongings! Such inconvenience is totally unheard of if you're working in coworking spaces. With high security such as a thumbprint or keycard access to your private offices, your belongings are safe 24/7.
Healthy & Comfortable Working Environment
Coworking spaces are built with one key objective: To create conducive work spaces for all. Often equipped with suitable facilities for work, you can expect to find ergonomic chairs, proper lighting, and air-conditioning at coworking spaces. Work in comfort in a cool environment with aircon, and you won't need to worry about having a sore back, tense shoulders, or spoiling your eyesight.
A Community to Belong To
One of the key benefits of coworking spaces is networking opportunities. A well-established coworking space will creatively find ways to encourage networking and connection. From festival celebrations to socialising activities, you'll be sure to feel welcomed and included. Who knows? You may meet a new business partner, colleague, or customer at such events!
Well-equipped Pantry
Coffee kickstarts our workday (and some of us can't live without it!) Did you know that most coworking spaces supply free coffee? Coworking space pantries also commonly stock biscuits, instant noodles, or childhood snacks to keep us going when our fuel is running low. For those who bring their food from home, a microwave and fridge make it highly convenient to store food and reheat them when necessary.
Spaces to Meet, Chill and Relax
Besides places to work, coworking spaces also provide spaces for people to meet such as meeting rooms equipped with whiteboards and a projector, or a cosy, relaxed space to meet and chat with clients or colleagues. Keep your work and business going smoothly by taking a chill break when necessary, or booking meeting rooms for an ultra-productive meeting!
So, there you have it – our five key reasons why working at coworking spaces totally rock.
Here are some helpful tips and questions to ask yourself before selecting a coworking space. Consider what you would like to have in your ideal work environment:
What are your typical working hours?
How often do you travel out of the office?
What's your overall budget? Take into account your budget for meals and transportation, too.
Do you prefer a quiet environment or with some background noise?
How are your meetings typically held – in person, online, or a mixture of both?
Are you looking to network or make new friends?
Looking for a coworking space in Kuala Lumpur or Johor Bahru? INFINITY8 manages a range of coworking spaces from budget-friendly to premium spaces situated in central business districts and strategic business locations. Our group focuses on elevating the standards of work at coworking spaces and creating opportunities for our community. We believe in creating workspaces for the community, by the community.
Find out more: https://www.infinity8.com.my

kongsi work by INFINITY8 (Molek)
No. 41-01&02, Jalan Molek 3/20, Taman Molek, 81100 Johor Bahru, Johor.
INFINITY8 Reserve JBCC
Suite 18-01, Level 18, Menara JLand Johor Bahru City Centre, Jalan Tun Abdul Razak, 80000, Johor Bahru, Johor.
INFINITY8 Reserve Eco Palladium
A-04-01-03, Pusat Perdagangan Ekoflora, Jalan Ekoflora Utama, 81100, Johor Bahru, Johor.
INFINITY8 Headquarters (Desa Tebrau)
37A, Jalan Harmonium 23/12, Taman Desa Tebrau, 81100, Johor Bahru, Johor.
INFINITY8 E-Commerce Hub
121-01, Jalan Mutiara Emas 2A, Taman Mount Austin, 81100 Johor Bahru, Johor.
INFINITY8 City Centre
60A, Jalan Tebrau, 80300 Johor Bahru, Johor.
INFINITY8 Medini Iskandar
Unit 02-02, Level 2, Cimb Leadership Academy, No 3, Jalan Medini Utara 1, Medini Iskandar, Iskandar Puteri, 79200, Johor Bahru, Johor.