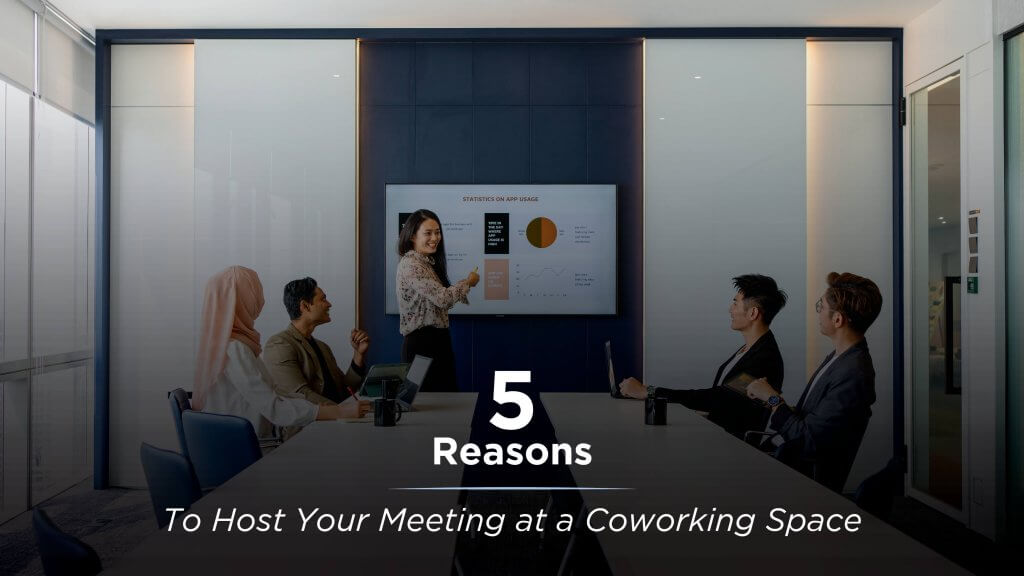 Are you looking for an affordable and professional event space to host your next company meeting, teambuilding session or out-of-office brainstorming? Aside from the conventional choices such as a hotel conference meeting room package, renting event spaces, or training room rentals, why not consider hosting your meeting at a coworking space?
In recent years, coworking spaces have become increasingly popular as a substitute for traditional office settings. Coworking spaces are equipped with a range of meeting rooms and modern facilities, making them a suitable option for businesses of all sizes.
Let's take a look at five reasons why hosting your meeting at a coworking space could be the right choice for your business.
Escape High Meeting Costs
Renting a traditional meeting space such as a hotel conference room or event space could be expensive. When additional amenities such as chairs, tables, projectors, whiteboards, or catering are required, it is common for extra fees to apply.
Coworking spaces are usually furnished with a focus on work, which means that the meeting rooms are designed and equipped with the right amenities for productive discussions and meetings.
Therefore, renting a meeting room at a coworking space is more cost-effective and helps businesses to escape high meeting costs.
Flexibility of Room Options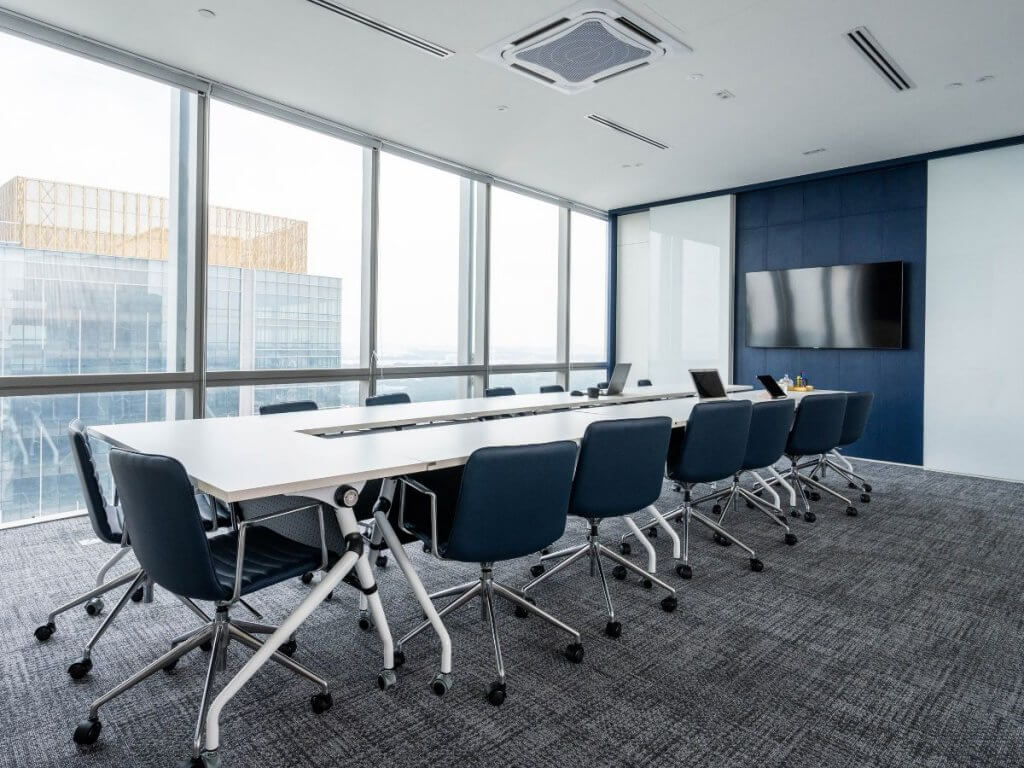 With a variety of meeting rooms available in co-working spaces, you can choose an event space that suits your specific needs. From event halls fitted with flexible seating options to corporate boardrooms and cosy meeting rooms, you have the advantage of designing a unique meeting experience.
Furthermore, there are a variety of collaborative workspaces available such as discussion rooms, lounge areas or relaxation zones. With comfortable seating and a setting geared for productivity, these spaces are perfect as breakout areas which encourage creative discussions and brainstorming sessions.
In addition, many coworking spaces offer flexible booking options such as hourly meeting room rentals or half-day rates, so you can book a room for as little or as long as you need.
A Professional Yet Lively Environment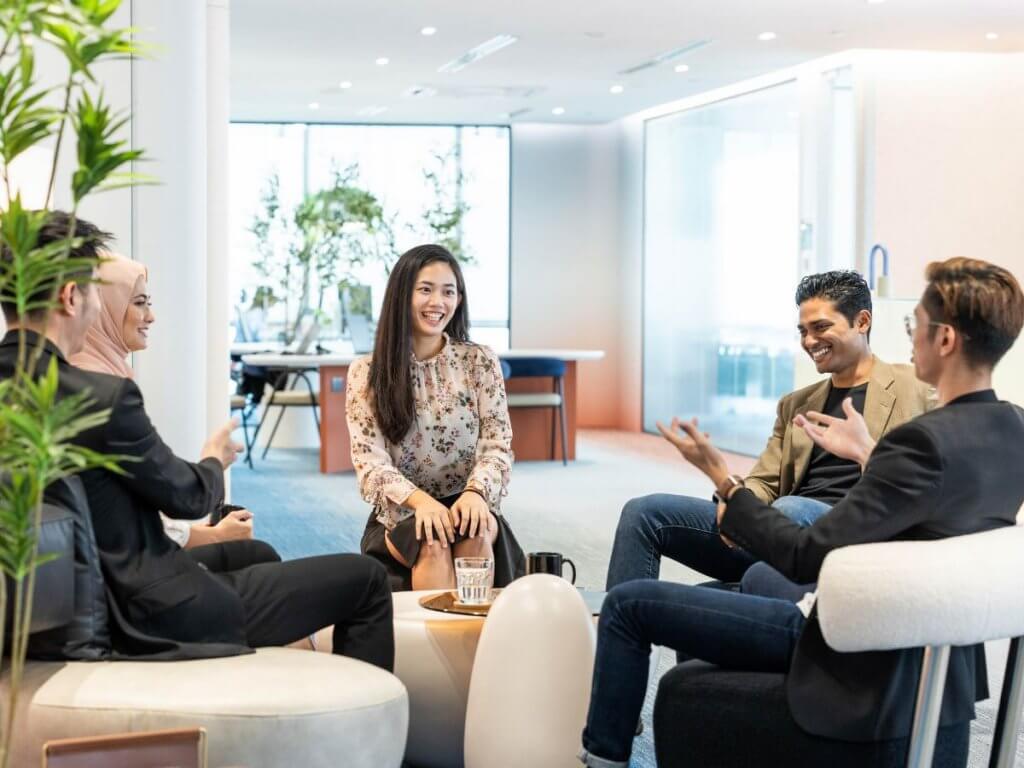 Coworking spaces are designed to look professional and welcoming, with modern facilities and comfortable amenities to impress clients or colleagues. These facilities are all-inclusive as part of the coworking experience.
You and your guests can enjoy the well-stocked pantry that offers a selection of hot and cold beverages, healthy snacks and even specialised coffee machines for attendees to enjoy during breaks.
Additional perks may include a games room to chill in, a mother's room for breastfeeding mothers, and nap rooms for short breaks.
By renting a meeting room at a coworking space, you can benefit from all these facilities, which help to create a complete and lively professional environment for hosting your meeting and guests.
Central Location and Accessibility
When hosting an important meeting, location, venue accessibility, and public transport services are important factors to consider, especially if you are expecting guests from different parts of the country or region.
Coworking spaces are often located in central business districts and commercial areas with ease of accessibility, making them favourable for meeting attendees or guests who are travelling from afar.
Value-added Services and Support
Depending on the requirements of your meeting, you may be looking for additional services such as catering, AV equipment, or administrative support.
Speak to the coworking space and enquire about the additional services and amenities they can provide for your meeting.
With the additional support of the coworking space, your planning process would be more streamlined and this would ensure that your meeting runs smoothly.
Coworking spaces offer numerous benefits for hosting your next meeting, as outlined in the five reasons above. Beyond these advantages, coworking spaces provide an opportunity to network with other businesses and entrepreneurs, potentially leading to future collaborations and new clients.
There are, however, a few disadvantages to take into account if you choose to host your meeting at a coworking space. During peak times, the availability of meeting rooms, breakout zones, pantry or lounge areas could be lower if these spaces were not booked ahead of time.
Since the coworking space is also utilised by other companies and workers who share the space, it may not be an ideal space if high noise levels or the privacy of your confidential discussions are a cause for concern.
To alleviate these potential concerns, request for a comprehensive tour of the coworking space prior to hosting your meeting. Visit the various spaces and amenities to identify the noise levels on a typical working day and listen for the incidence of noise during peak times. Enquire if the coworking space has soundproof meeting rooms or quiet zones which would be beneficial for your meeting.
With a balance of work-focused facilities and comfortable amenities for attendees, renting meeting rooms at coworking spaces can be a wise decision.
In conclusion, hosting your company meeting at a coworking space can offer a range of benefits that surpass traditional options for meeting room, training room and event space rentals. From cost-effectiveness and flexibility to location and additional services, coworking spaces provide a practical and efficient solution to your meeting needs, enhancing productivity and creating valuable connections in the process.
Host your next event at INFINITY8, workspace for the community, by the community. With eight locations in Johor and one in Kuala Lumpur, we have a variety of flexible workspaces and service solutions for diversified business needs, high-end facilities, quality services, and an open and energetic environment to connect, share, grow and thrive.
Contact us at [email protected] or call us at 018 220 4138 to discuss your next event's requirements now!